Mon, 11/07/2011 - 11:38
Angelina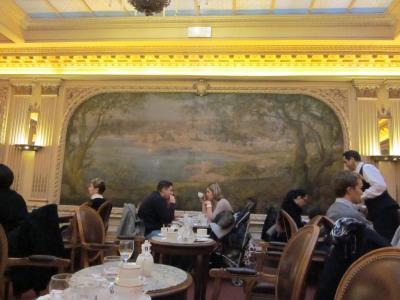 After a long day exploring the Tuileries and the art at the Louvre, plan a visit to Angelina--a tea salon perfectly situated on Rue de Rivoli. Angelina opened its doors in 1903 serving a full menu of tea sandwiches, salads, pastries, tea, and hot chocolate. Even Coco Chanel was a fan.
The salon's African hot chocolate is served in a pitcher along with teacups and a bowl of Chantilly cream--if the chocolate alone isn't enough. The chocolate is rich, thick, and heavenly.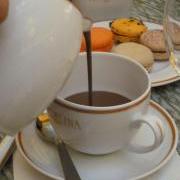 This is what makes Angelina a classic, as well as spending a relaxing hour or two taking in the gorgeous formal salon. Both make you feel as if you are having a true Parisian experience.

Choose from a variety of amazing desserts and breads. Our table decided to try a little bit of everything--a buttery croissant, a raisin brioche, and a colorful selection of macarons.

The staff is quite friendly and the service is excellent. They don't rush you out the door, even though there is a line of people waiting to be served.

Before you leave, don't forget to walk through the bakery where you can take home Angelina's hot chocolate, tea, cookies, and fresh pastries. Two tips: Go upstairs to view the ornate dining room from the balcony. And, leave yourself at least 20 minutes to wait for a table.

The salon is not for the budget-minded, but I am a big believer in treating yourself from time to time. This is also an ideal spot to stop in after a day shopping on rue Saint-Honoré and the Christmas markets near Concorde.
DETAILS...
Angelina's is located at 226 Rue de Rivoli, 75001.
Metro: Concorde, Tuileries, or Pyramides.
The tea salon is open Monday through Sunday until 7 PM.
There is always a wait outside, but it moves fast.
Save some money for the bakery and store, which is located in the entrance of the salon.
It was designed by Belle Epoque architect Edouard-Jean Niermans.
Tags for all blogs :
Comments or opinions expressed on this blog are those of the individual contributors only, and do not necessarily represent the views of FRANCE 24. The content on this blog is provided on an "as-is" basis. FRANCE 24 is not liable for any damages whatsoever arising out of the content or use of this blog.