Sun, 09/18/2011 - 14:49
Les Puces du Design
The crisp air during this time of year always puts me in the mood to spend a lazy Sunday afternoon at an outdoor market. I happen to live in the perfect city because Paris has some of the best markets around offering visitors an incredible selection of antiques, food, flowers, and fashion.

Les Puces du Design happens to be one of my favorite markets.
The outdoor market--only open twice a year--is dedicated to 20th Century design, accessories, and high-end vintage clothing.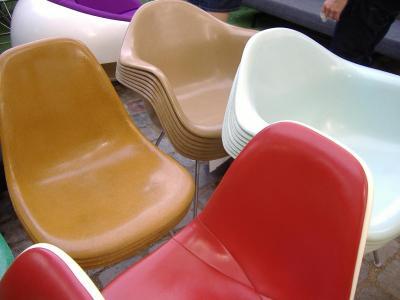 Stacks of Herman Miller Chairs at Les Puces du Design
The show has a nice selection of vintage chairs, lighting, and anything mod. For shoppers looking for vintage fashion, dealers will be showcasing a nicely edited inventory of designer labels including Chanel, Louis Vuitton, YSL, and Prada.

The prices are high, but as we all know prices are always negotiable--even in Paris. When I visited the show last May, I saw quite a few people making deals.

The next show is from October 6 through October 9 at Bercy Village, Place des Vins de France in the 12eme. Show hours: 10 to 7. Admission: Free. Metro: Cour Saint Emilion.
This is a collection of photos from last year's October show. The upcoming market should be even better.












Comments or opinions expressed on this blog are those of the individual contributors only, and do not necessarily represent the views of FRANCE 24. The content on this blog is provided on an "as-is" basis. FRANCE 24 is not liable for any damages whatsoever arising out of the content or use of this blog.